CS 3:有源音柱
专业音响小体积,高清晰,大声压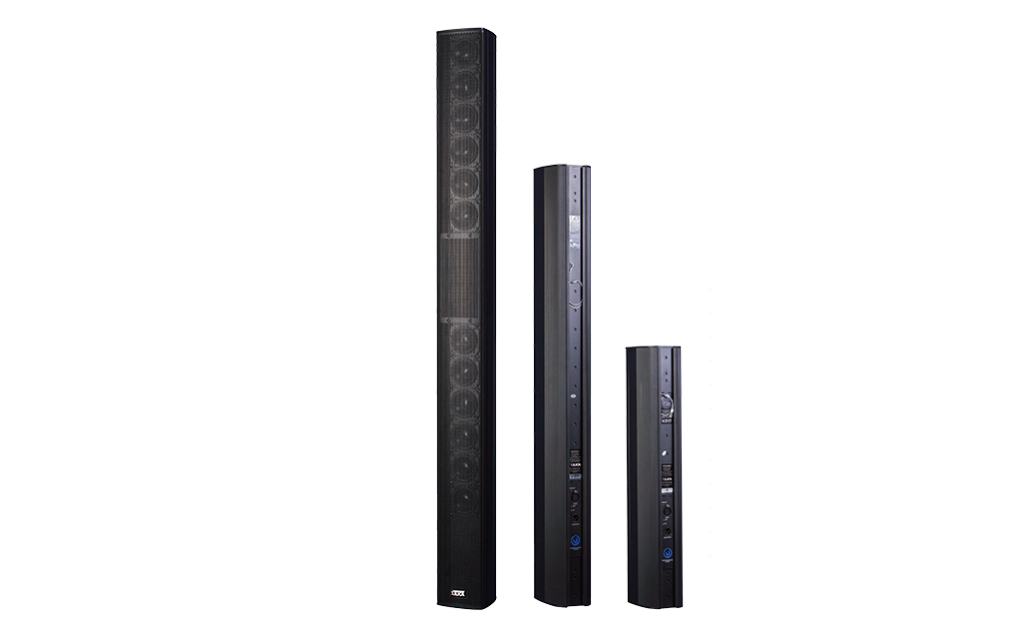 CSAN有源网络版本 一根网线串联未来
配备Dante网络音频信号输入,可以与Xilica任何一款Dante媒体矩阵及Dante接口盒兼容,更可以与其他品牌数字调音台、数字话筒和媒体矩阵兼容,通过Solaro软件完成跨品牌音频网络的搭建及管理,集中控制。
CSA有源版本 简化系统组成,节省安装空间
内置丹麦设计生产的2通道有源开关电源模块,为音柱提供2通道500W的D
类功放,超小紧凑的体积设计让整个系统运行高效,更集成了带PFC功能的
通用增益稳压电源,安全可靠。
CS 3″ Active Column with Dante, Connecting Future
While possessing Dante network, CSAN is compatible with any Dante media matrix and Dante interface boxes of Xilica.
It is also be compatible with other brands with Dante protocol,digital microphone and media matrix through Solaro software for main connection and control.
CS 3″ Active Column, Easy System Setup,Conserve Space
Built-in,by Denmark,2-channel active swithcing power supply,the speaker can possess two channels of 500W Class D amplifier.Its compact size allows the overall system to run more efficiently. In addition with integrated PFC fumction of the umiversal gain regulated power supply,making it safe and reliable.
Application
Professional audio with wide range, high sound pressure. Its existence can't be "ignored"
CS series is born with slender staure and meets modern architecture.
Excellent to be used in conference rooms, lecture halls, exhibitions, courts, classrooms, shopping malls, seminars or private clubs.
Variety of installation combinations to choose from, with angle adjustable hanging accessories, making it able to be applied freely on any environment.
Technical Specs
Downloads
Technical Specs
| | | | |
| --- | --- | --- | --- |
| 型号 Model | CS342A/CS342AN | CS382A/CS382AN | CS3122A/CS3122AN |
| 单元 Components | 4×3" 低音 bass | 8×3" 低音 bass | 12×3" 低音 bass |
| 组件 Components | 3" 铝带高音 treble | 4" 铝带高音 treble | 4" 铝带高音 treble |
| 频率响应 Freq.Resp | 110Hz-19kHz | 110Hz-19kHz | 110Hz-19kHz |
| 灵敏度 Sensitivity | 94dB 1W/1m | 92dB 1W/1m | 98dB 1W/1m |
| 最大声压级 Max SPL | 114dB | 115dB | 122dB |
| 覆盖角度 Cover | 120°× 20° | 120°× 20° | 120°× 20° |
| 驱动 Power Amp | 250W | 500W | 500W |
| 电源 Power | 90V - 240V AC | 90V - 240V AC | 90V - 240V AC |
| 输入 Input | CSA系列:XLR × 1/PowerCON × 1 CSAN系列:EtherCON × 1/PowerCON × 1 | CSA系列:XLR × 1/PowerCON × 1 CSAN系列:EtherCON × 1/PowerCON × 1 | CSA系列:XLR × 1/PowerCON × 1 CSAN系列:EtherCON × 1/PowerCON × 1 |
| 并联输出 Output | XLR × 1 | XLR × 1 | XLR × 1 |
| 颜色 Output | 黑色/白色 Black/White | 黑色/白色 Black/White | 黑色/白色 Black/White |
| 配件 Accessories | 标准墙装配件;选配可调节角度吊挂件 Wall/Hanger | 标准墙装配件;选配可调节角度吊挂件 Wall/Hanger | 标准墙装配件;选配可调节角度吊挂件 Wall/Hanger |
| 尺寸 Accessories | 124×148×660 | 124×148×1072 | 124×148×1382 |
| 净重 N.W | CS342A - 6.8kg CS342AN - 7kg | CS382A - 11.6kg CS382AN - 11.8kg | CS3122A - 14.6kg CS3122AN - 14.8kg |
Downloads