CS 3:无源音柱
专业音响小体积,高清晰,大声压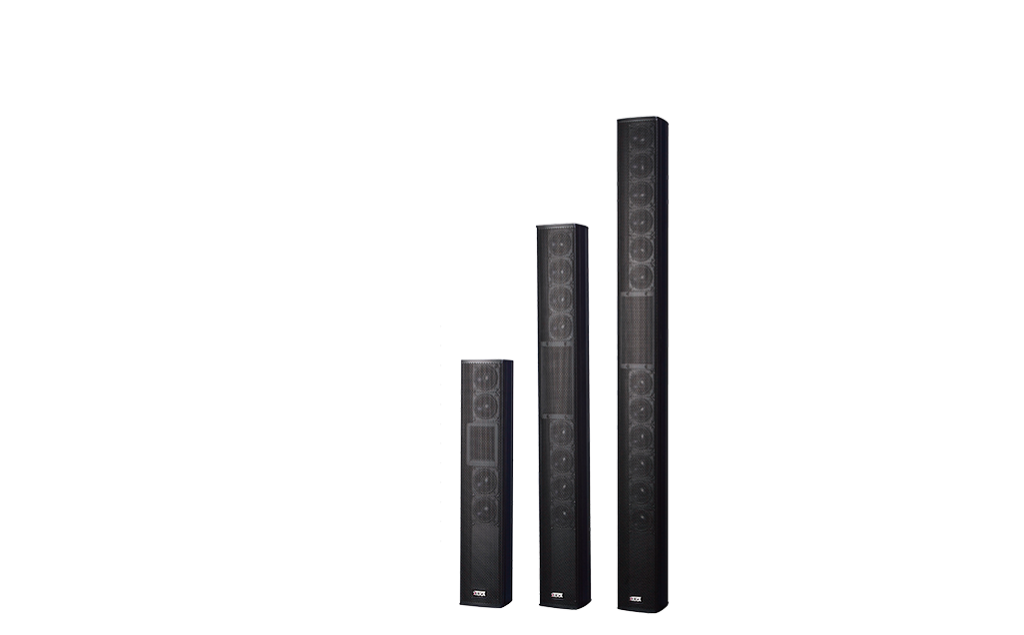 CS无源版本 简单易用,传统稳定,经济耐用。
超小紧凑的体积让整个系统的运行高效,为各种固定安装扩声系统提供简单而强大的解决方案。
CS3 Passive Speaker, Easy to Use, Traditionally Stable, Economical and Durable
Its ultra-compact size allows the entire system to run efficiently and provides a simple yet effective solution for a variety of fixed sound reinforcement installation systems.
Minimize The Size
Aluminum-magnesium alloy-based body,implanted with 3″woofer along with 3″and 4″aluminum treble,brings out a stylish and magnificent appearance. Unlike regular speaker designs,CS selection of the aluminum treble maximizes its performance on wonderful sound quality and smooth trele. It is excellent in medium-sized application.
Application
Professional audio with wide range, high sound pressure. Its existence can't be "ignored"
CS series is born with slender staure and meets modern architecture.
Excellent to be used in conference rooms, lecture halls, exhibitions, courts, classrooms, shopping malls, seminars or private clubs.
Vaiety of installation combinations to choose from, with angle adjustable hanging accessories, making it able to be applied freely on any environment.
Technical Specs
Downloads
Technical Specs
| | | | |
| --- | --- | --- | --- |
| 型号 Model | CS342 | CS382 | CS3122 |
| 单元 Components | 4×3" 低音 bass | 8×3" 低音 bass | 12×3" 低音 bass |
| 组件 Components | 3" 铝带高音 treble | 4" 铝带高音 treble | 4" 铝带高音 treble |
| 频率响应 Freq.Resp | 110Hz-19kHz | 110Hz-19kHz | 110Hz-19kHz |
| 灵敏度 Sensitivity | 94dB 1W/1m | 96dB 1W/1m | 98dB 1W/1m |
| 最大声压级 Max SPL | 114dB | 119dB | 122dB |
| 覆盖角度 Cover | 120°× 20° | 120°× 20° | 120°× 20° |
| 阻抗 Imp. | 8Ω | 4Ω | 4Ω |
| 额定功率 Pow. | 100W | 200W | 300W |
| 输入 Input | Neutrik SpeakON × 2 / Euro Block × 1 | Neutrik SpeakON × 2 / Euro Block × 1 | Neutrik SpeakON × 2 / Euro Block × 1 |
| 颜色 Color | 黑色/白色 Black/White | 黑色/白色 Black/White | 黑色/白色 Black/White |
| 配件 Accessories | 标准墙装配件;选配可调节角度吊挂件 Wall/Hanger | 标准墙装配件;选配可调节角度吊挂件 Wall/Hanger | 标准墙装配件;选配可调节角度吊挂件 Wall/Hanger |
| 尺寸 Dimension | 124×148×660 | 124×148×1072 | 124×148×1382 |
| 净重 N.W | 6.3 kg | 11.1 kg | 14.1 kg |
Downloads