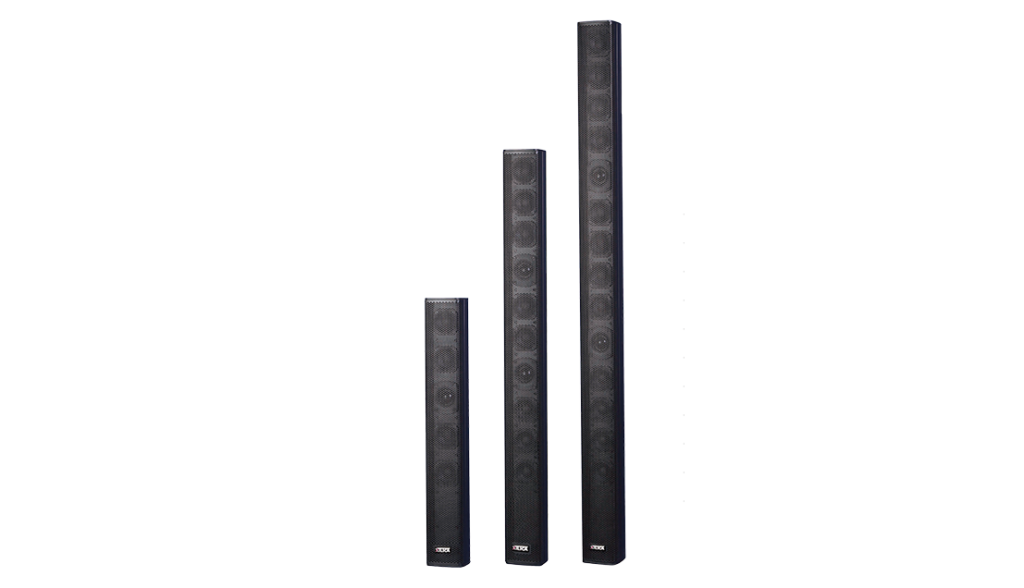 2"单元系列:更加迷你的体积,却有惊人的能量与音色,选用2"低音单元搭配。
1"球顶高音单元,外形纤长,身量轻盈,非常适合中小型语言类扩声的固定安装。
CS2″ Passive Series: mini version of the previous series, yet possesses amazing energy and sound.
2″ woofer with a 1″ dome tweeter.It is slim, light; very suitable for small and medium-sized fixed installation.
Application
Professional audio with wide range, high sound pressure. Its existence can't be "ignored"
CS series is born with slender staure and meets modern architecture.
Excellent to be used in conference rooms, lecture halls, exhibitions, courts, classrooms, shopping malls, seminars or private clubs.
Variety of installation combinations to choose from, with angle adjustable hanging accessories, making it able to be applied freely on any environment.
Technical Specs
Downloads
Technical Specs
| | | | |
| --- | --- | --- | --- |
| 型号 Model | CS242 | CS282 | CS2122 |
| 单元 Components | 4×2" 低音 bass | 8×2" 低音 bass | 12×2" 低音 bass |
| 组件 Components | 1×1" 球顶高音 dome tweeter | 2×1" 球顶高音 dome tweeter | 2×1" 球顶高音 dome tweeter |
| 频率响应 Freq.Resp | 120Hz-20kHz | 120Hz-20kHz | 120Hz-20kHz |
| 灵敏度 Sensitivity | 89dB 1W/1m | 92dB 1W/1m | 95dB 1W/1m |
| 最大声压级 Max SPL | 107dB | 113dB | 118dB |
| 覆盖角度 Cover | 90°× 30° | 90°× 30° | 90°× 30° |
| 阻抗 Imp. | 4Ω | 8Ω | 12Ω |
| 额定功率 Pow. | 60W | 120W | 180W |
| 输入 Input | Neutrik SpeakON × 2 / Euro Block × 1 | Neutrik SpeakON × 2 / Euro Block × 1 | Neutrik SpeakON × 2 / Euro Block × 1 |
| 颜色 Color | 黑色/白色 Black/White | 黑色/白色 Black/White | 黑色/白色 Black/White |
| 配件 Accessories | 标准墙装配件;选配可调节角度吊挂件 Wall/Hanger | 标准墙装配件;选配可调节角度吊挂件 Wall/Hanger | 标准墙装配件;选配可调节角度吊挂件 Wall/Hanger |
| 尺寸 Dimension | 79×83×548 | 79×83×860 | 79×83×1124 |
| 净重 N.W | 3.3kg | 5kg | 6.3kg |
Downloads